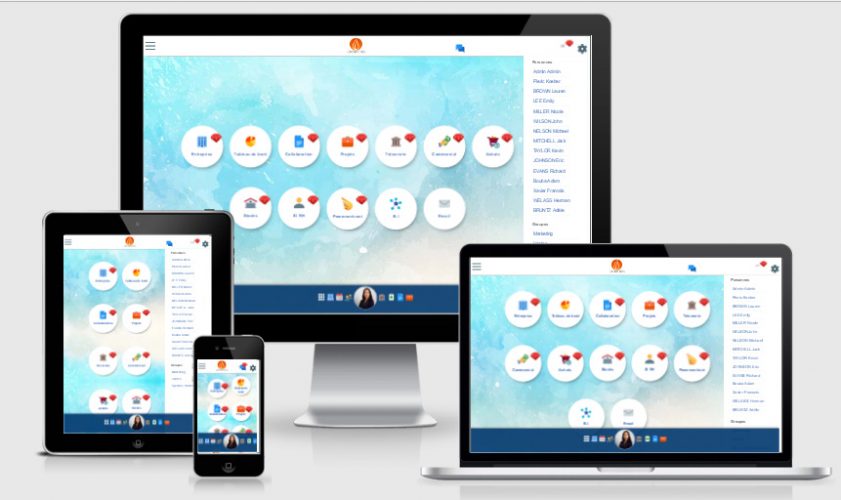 Growithis Cloud Suite is the new enterprise management solution available online without prior installation in Software as a Service (SAAS) mode. Growithis Cloud Service allows you to manage your business more easily wherever you are. The solution allows you considerable gain in management, time and money.
A gain in time by facilitating communication
Communication is a central key in the operation of the business. Better communication allows the decision-maker to have reliable information to make the best decisions and allows the performers to have enough information to carry out their missions in the best conditions.
With Growithis Cloud, no more redundancies, false rumors. The information is clear and is processed very quickly. This facilitated communication saves a lot of time for other high-value business tasks.
A cash prize
Growithis Cloud allows companies to focus on the core business and leave the management and calculation tasks to the application. As a result, business management tasks that took time in resources to be completed are now automated, resulting in savings on allocated resources. This results in a considerable gain in money.
A gain in management
Growithis Cloud by centralizing information on a single unified platform for the entire company allows easier access to information. These can be collected, stored and processed more efficiently. With a simple and intuitive interface, the visibility you have of your business is increased. You better control and better manage your activity.
Business modules
Collaboration module
People management
Managing Groups
File and version management
Link Management
Integrated file management


Project Module
Project management
Management of tasks and people
Document management and links for each project
Budget Management
Expenditure Management
Cash module
Account management
Operations management


Commercial module
Prospect Management
Customer Management
Billing Management
Quotation Management
Ticket Management
Purchasing module
Management of suppliers
Expenditure Management
Order management
Quotation Management
Contract management




HR Module
tally
Leave management
Absence management
Premium Management
Management of expense reports
Automatic generation of payslips
Contract management


Business module
Enterprise Information Management
Service Management
Management of posts
Organizational chart
Backup Management
Legal module
Commercial Contracts and HR Management
Version Management
Controlling dashboards of contracts
Management of notices and renewals
Management of contract templates
Growithis Cloud is available on PCs, tablets and smartphones to help you better manage your business, increase your performance for better growth. Start now!